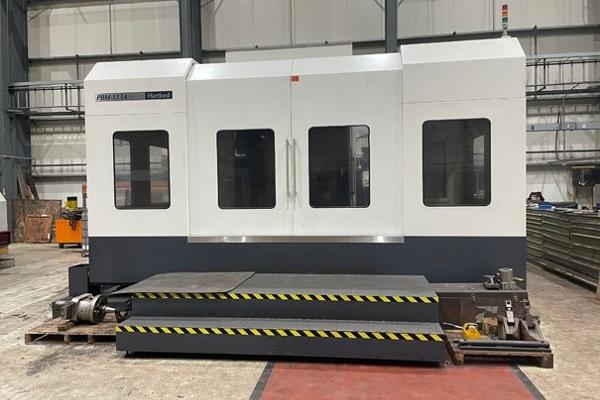 1 Lot
HARTFORD PBM115AG CNC Horizontal Table Type Boring & Milling Machine with FANUC 0i-MD Control. Year of manufacture 2012
Table size 1400mm x 1600 mm. Tee Slot Dimensions (size x number x pitch) 27 x 7 x 200 mm. Spindle dia. 100 mm. Spindle taper 50 ISO. Spindle sleeve 225mm dia. Spindle Speeds to 3000 rpm (Geared Head). Max table loading 7000Kg. Travels X/Y/Z/W 2000/1600/1500/500mm. . Spindle power 18.5kW. Feedrate 1 - 5000 mm/min. Rapids X/Y/Z 10m/min. Rapids W 6m/min. Automatic Toolchanger (40 tools). Max standard tool diameter 125 mm. Max oversize tool dia. 250 mm. Max tool length 400 mm. Max tool weight 25Kg. Fully Enclosed Guarding for Through Spindle Coolant (20 Bar). Spindle support. 3 Axis Linear Scales. Oil Cooler. Link Type Swarf Conveyor and Tipping Skip.
Power requirement 60KVA. Electrical Supply 415V 3Phase. 50Hz. Air Pressure 6.5Kg/CM2.
Machine Cutting Time 2095 Hours. Machine has had very little use and is in exceptional condition.
In addition to the machine we are offering on behalf of the client the following related accessories
COGSDILL 2.1/16" & 5.1/8" Seat Pocket/Outfacing Bars
ITS CH16 Contouring Head
These items are for sale by Negotiation directly with the auctioneers and priority will be given to the purchaser of the main HARTFORD PBM115AG CNC Horizontal Borer
All agreed prices will be subject to a 15% Buyers Premium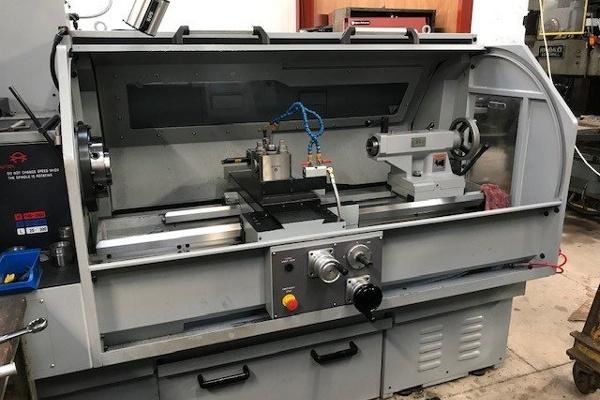 1 Lot
PRIVATE TREATY SALE - Due to Re-organisation
XYZ RLX 425 CNC Lathe with PROTOTRAK Control. Year 2020
Spindle 10HP Variable Spindle Speed with Yaskawa Inverter Drive. Spindle Speeds 25 - 2,500rpm. Spindle Bore 80mm. Spindle Nose D1-8 Camlock. Speed Ranges 3 Ranges High 140 - 2,500rpm / Med 50 - 850rpm / Low 25 - 300rpm. Spindle Taper MT7 in bush. Swing Over Bed 480mm. Swing in Gap 700mm. Gap in front of Faceplate 170mm. Gap in front of Faceplate. Cross Slide Travel 230mm. Distance between Centres 1250mm. Maximum Cutting Length 1080mm. Tailstock Travel 160mm. Tailstock Taper MT5. Tailstock Diameter 75mm. Bed Width 370mm. Ballscrews X & Z. Servo Motors X & Z.
3 & 4 Jaw Chuck. Steady
Dimensions (L x D x H) 2600 x 1480 x 1830 mm. Machine Weight 2700Kg
GUIDE PRICE £34,000 + 15% BUYERS PREMIUM