Auction details
Description
EXCELLENT OPPORTUNITY TO IMMEDIATELY PURCHASE 2 x TOP QUALITY REMAINING ITEMS PRIOR TO REMOVAL
LOT 1 - GIDDINGS & LEWIS MAG VTC 2500 TWIN PALLET VERTICAL TURNING/MILLING CENTRE. SIEMENS 840DSI. YEAR 2014
LOT 2 – GIDDINGS & LEWIS RT1250 CNC HORIZONTAL BORING MACHINES.SIEMENS 840D. YEAR OF MANUFACTURE 2005
VIEWING BY APPOINTMENT ON SITE IN LEEDS, WEST YORKSHIRE, ENGLAND
This is a strict PPE site and all visitors without exception will need to wear Personal Protection Equipment to gain access.
Site Address:Queen Street, Stourton, Leeds, LS10 1SB
Contact our offices for an appointment to inspect. +44 (0) 161 345 3000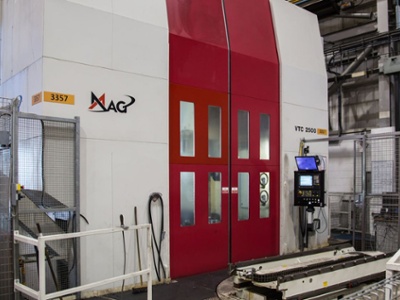 Chuck Sizes 2500mm.Maximum swing 2700mm.Maximum Work Height (chuck to ram) 3300mm See special option on attached Manufacturers Specification/Proposal.Table speeds 1-200 rpm. Live Spindle Speeds 6-2000 rpm. Live Head Attachment to 4,000 rpm. Z Axis Ram Travel 1750mm. Ram Section 250mm x 250mm. C Axis - 360°contouring. Rapids X&Z 20,000mm/min. Live Spindle Power 33kW. 25 Auto Toolchanger (5 Wedgeloc, 1 live spindle). Main Drive 84 kW. Through Spindle Coolant. Flush Coolant 20 bar. High Pressure Coolant 70 bar. Renishaw HPMA Tool Probe (motorised arm). Renishaw RPM60M Job Probe. Balluf Chip & Inspection Swarf Conveyor.Siemens 840DSI Solution Line Control. Live camera & screen.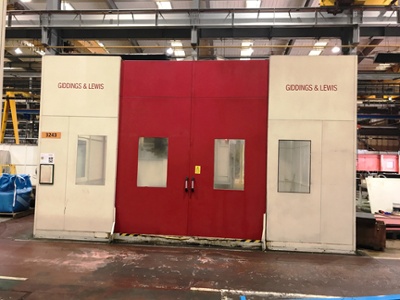 Spindle dia. 155mm. Spindle Speeds 10-3500 rpm.Table size 1250mm x 1600mm. W travel 2500mm. X travel 2500mm. Y travel 2000mm. Z travel 1250mm.Table loading 15,000 kgs. Toolchanger positions 90. Rapids X,Y,Z&W 25m/min. Rapids B Axis 6 rpm. B Axis 360 degree. Thro' spindle coolant. Boom mounted operators panel. Air conditioned control cabinets. Bed & Saddle Bedway Covers. Single discharge swarf conveyor. 2 x Outriggers Supports (1 each side). Motor Power 74HP (55kW). Electrics 400V/3PH/50Hz.Max Tool Length 750mm. Max Tool Weight 50kgs.Tool dia. (adjacent pocket full) 125mm. Tool dia. adjacent pocket empty 250mm.Machine was installed in 2006.